Science Fiction Directory
Hello and welcome to the Science Fiction Sites Directory.
ScienceFictionSites.com is one of the fastest growing sci-fi directories on the Web. The directory is human edited so each site is checked for quality before inclusion.
We have lots of great sci-fi sites so please browse our categories. You'll find all the best science fiction books, movies, games, forums, comics, scifi toys, and more!
Add Your Sci-fi Site to the Directory.
Featured Scifi Sites

Scifi Games Online
A new Scifi games arcade where you'll find the best science fiction games. We have alien games, ufos, spaceships, and more. We are a new site but add new games every day.
Categories
---
Latest Sci-Fi Links
End Of Times
Post Apocalyptic Buffy The Vampire Slayer site set during 2013 in Cleveland and Akron, Ohio. Completely original plot.
Added May 5, 2013 - Category: Sci-fi Games
---
Scifi Arcade
Free games arcade with a scifi theme. Play free games here now and register to become an official SCIFI Gamer. Remember to check back often because we are always adding new games.
Added April 6, 2013 - Category: Sci-fi Games
---
Satendrites
One chapter of the novel appears each week. 1st seven chapters are free. Comments are asked for. 312 people, mostly children, escape the final nuclear war predicted by Polku Tallus, time traveler. Attacked by humans as they pass the moon and Mars, they survive only to be attacked by Megalarvs near Enceladus (Saturn).
Added January 14, 2013 - Category: Books & Authors
---
Scifi Games Online
A new Scifi games arcade where you'll find the best science fiction games. We have alien games, ufos, spaceships, and more. We are a new site but add new games every day.
Added October 4, 2012 - Category: Scifi Games
---

MyStarship.com Banner Exchange

---
Directory Critic
|
SciFi Arcade
|
Sci-fi Top Sites List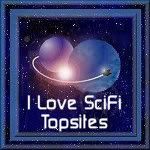 Privacy Policy

|

Sitemap

|

Free Backlinks

Copyright © 2008-2013

ScienceFictionSites.com

Website thumbnails provided by BitPixels

Image of borg drone © Alistair Mcmillan from Wikimedia Commons under the Creative Commons Share Alike Attribution 2.0 license.